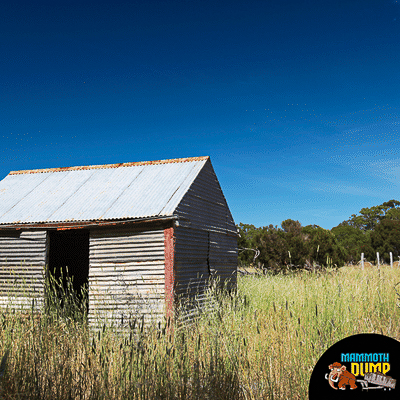 Shed Demolition Cost - What Goes Into The Price?
If you're in need of a shed demolition and removal service, Mammoth Dump is here to help. But how much does it cost to hire us for this service? It all depends on a few factors, such as the size of your shed, what material it's made out of, and whether or not it needs to be broken down into smaller pieces in order to access hard-to-reach locations. Let's take a look at how these factors can affect the cost of your shed removal.
Size Matters The size of your shed will affect the cost of shed removal services. The bigger your shed is, the more time and resources we'll need to use in order to remove it properly. That means that if your shed is larger than 10x10 feet, you may end up paying more money than someone with a smaller shed. However, most sheds won't exceed 10x12 feet in size and so they should fall within our standard pricing range.
What Is Your Shed Made Of? The type of material used in the construction of your shed will also have an impact on its disposal price. We specialize in removing wood sheds but can also handle vinyl and aluminum structures as well. Depending on which type of material you have, there may be additional costs associated with its disposal process due to special equipment or extra labor needed for its disposal.
Is Your Shed Full Of Stuff? If you have items stored in your shed that need disposing of too, then the price for our services will increase accordingly. This is because some debris require specialized disposal methods that are subject to additional fees from our partners who offer these services. As such, it's always important for us to know if there are any items inside the shed that need disposing before we provide an estimate for our services.
No matter what kind of shed demolition and removal service you need, Mammoth Dump can help get rid of it quickly and safely without breaking the bank! The estimated cost for our services depends on several factors such as size, material type and items stored inside the shed that require disposing of as well and recommend you know them. By knowing these details upfront, we can provide a more accurate estimate for your waste so that you know exactly what to expect when hiring US! So don't hesitate—contact us today if you're looking for top-notch service at an affordable price!

Shed Removal | Easy As 1-2-3
Key Takeaways | This page is talking about shed removal
---
Want The Items In Your Shed Removed Too?
Some common examples of junk we haul away include:
Small Sheds | Smaller than 10'x10'



Lawn Mowers



Old Bikes



Gardening Supplies
Large Sheds | Bigger than 10'x10'



Outdoor Furniture



Old Shovels



Lawn Equipment
Construction Debris



Old Power Tools



Shelving Units



Pavers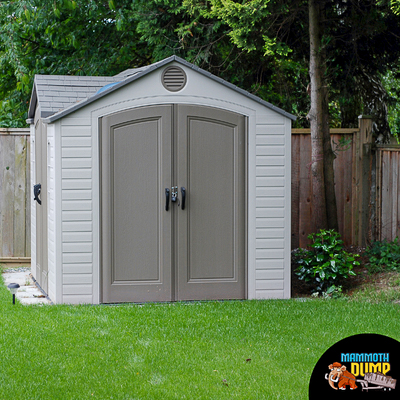 Shed Demolition Average - What We Typically See
Shed Demolition Average:
Are you in the market for a shed removal job? Maybe you're a landlord and need to clear out an old tenant's shed, or maybe you just want to make some extra room in your backyard. In either case, it's important to understand the average size and cost of a shed removal job. Mammoth Dump has all the information you need to find Shed Demolition near you.
Average Size:
The average size of a shed removal job will depend on the type of shed you have. Smaller sheds such as garden sheds are typically around 10 feet long by 10 feet wide. Larger sizes can range up to 14 feet by 20 feet, but these are more rare. If you have a large shed, it may be best to hire a junk expert at Mammoth Dump who can ensure that everything is safely removed and disposed of properly.
Shed Demolition Cost:
The cost of a junk removal project will vary depending on the type and size of the shed, as well as any additional services needed such as debris removal or a dumpster rental. Generally speaking, smaller jobs will cost around $450 while larger jobs can run upwards of $1,500 depending on how much work is required. It's also important to factor in any additional costs such as dump fees or rental equipment charges if applicable.
Additionally, if you plan on disposing of hazardous materials such as paint cans or oil tanks, there may be additional fees associated with those items. It's always best to consult with a junk specialist at Mammoth Dump if you have questions about what types of items they accept or clean trash they may be able to recycle.
At Mammoth Dump we understand that every project is different and everyone has unique needs when it comes to removing a shed from their property. We strive to provide our customers with accurate estimates so they can make informed decisions when selecting our services for their next project. So whether it's small garden sheds or large storage buildings, we've got all your needs covered for safe and efficient junk removal jobs at competitive prices! Get in touch today for your free quote!
Shed Demolition Contractor - How To Choose The Right One
Shed Demolition Contractor:
If you're thinking about getting a shed removed from your property, it's important to choose a contractor who is experienced, knowledgeable and trustworthy. Don't just settle for the cheapest option; make sure that the contractor you hire is qualified to do the job safely and properly. Here are some tips on how to choose the right contractor for your shed removal project.
Do Your Research:
Before hiring a contractor, it's important to do your research and find out what their experience and qualifications are. Make sure that they have a good reputation in the industry and that they have references or testimonials from satisfied customers. You can also check online reviews to get an idea of what other people have had to say about them. Additionally, be sure to ask if they are insured and bonded so that you know your property is protected in case something goes wrong during the project.
Consider Hiring A Pro:
When it comes time to actually hire a contractor for your junk removal gig, consider hiring a professional with a company rather than going with an amateur or someone who has minimal experience in this field. A friendly professional will be able to provide you with high-quality workmanship as well as peace of mind knowing that your project will be completed correctly. They will also be able to answer any questions you may have and provide helpful advice on how best to go about getting rid of your shed safely and efficiently. Also they are more likely to have a team of guys who can help.
Know What You Need:
It's also important that you know exactly what type of services you need before committing to hiring a contractor. For example, if you only need someone to haul away the debris after removing the shed, then there's no need for them to provide additional services such as repair or demolition work. Knowing what type of services you require ahead of time will ensure that you get exactly what you need from your chosen contractor without having to pay extra for unnecessary services.
Affecting Shed Demolition - What Are Some Factors?
Affecting shed demolition: Shed demolition is a unique process with its own set of factors that can influence the rate, duration, and cost. It's important for homeowners to consider local regulations, the shed's size, existing infrastructure, accessibility to the shed, material type and overall condition before undertaking a shed demolition project. Local regulations are particularly important since they may require approval from the municipality in order to proceed with shed demolition. Shed size can also affect how long it takes to demolish as well as how much space there is available for debris removal. Additionally, existing infrastructure in close proximity such as overhead wires, neighboring sheds or buildings need to be assessed for safety reasons before proceeding with shed demolition. Finally, accessibility to the shed and its material type can both have an effect on demolition time and costs. Knowing these factors beforehand will help ensure a smooth shed demolition process.
Shed Demolition Pricing/Shed Removal Cost - We Make It Affordable
Shed removal is usually a costly endeavor, but with our services, we make it more affordable. We'll give you the shed removal cost up front so that you can budget out your project accordingly.Our shed hauling is done safely. There's no faster or better way to get rid of an old shed than us – we'll take care of the process completely, leaving behind nothing but peace of mind. Let us show you why shed demolition pricing doesn't have to be something that worries you.