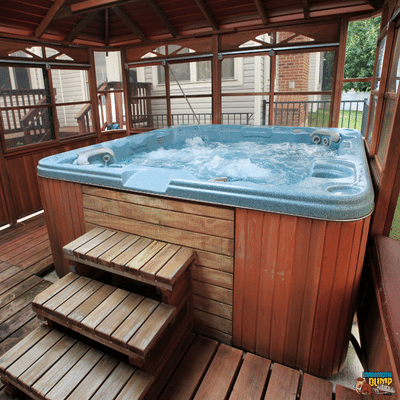 Tub Removal - When Your Hot Tub Needs Removal
So you've outgrown your hot tub or it's time to upgrade to a new model. What do you do with the old one? Hot tub disposal can be a tricky process, but it doesn't have to be. Let's take a look at what hot tub removal is, when it might be necessary, and how Mammoth Dump can help you with your junk removal.
What Is A Hot Tub & How Is Removal Done? Hot tub removal is the process of safely and responsibly disposing of an unwanted hot tub. It involves disassembling the hot tub and either taking it away for proper disposal or recycling, or even donating it if possible. Removal of your old hot tub should only be carried out by a professional service that has the experience and expertise to properly handle all types of hot tubs.
When Your Hot Tub Needs Removal? There are several scenarios when removal is the only option for your hot tub. For example, if you are replacing an old or outdated model with a newer one, or if you are remodeling your home or yard and no longer have space for your existing hot tub. You might also need hot tub removal if you are moving and cannot transport your current unit with you. In any case, removing an old or unwanted hot tub is always better than leaving it where it is as it can pose health and safety risks over time such as mold growth and water damage.
How Can Mammoth Dump Help? Mammoth Dump specializes in safe and responsible removal services for both commercial and residential customers. Our experienced team has the equipment needed for the safe removal of hot tubs from any location regardless of size or weight. We will even dispose of the unit in an environmentally friendly manner so that you don't have to worry about causing any damage to our planet! Whether you need one-time service for a single unit for the year or regular maintenance for multiple units, we've got you covered especially when it comes to pricing!
Hot Tub - Removal - The Complete Guide
Hot Tub - Spa Hot Tub - Removing/remove Your Hot Tub
Preparing your hot tub for removal can seem intimidating, but it doesn't have to be. The first step is to unplug the hot tub which should be done before taking any further actions. After that, you need to ensure that all the water has been drained out of it and the hoses that may be attached to it. You may want to also consider taking apart and removing any remaining components that are associated with the hot tub. Luckily for you, when it comes time to actually remove the hot tub, there are professionals whose sole specialty is junk removal such as Mammoth Dump. Their experienced pros will take great care of your needs when removing the hot tub from your property and can guarantee that it will be handled in a safe and efficient manner.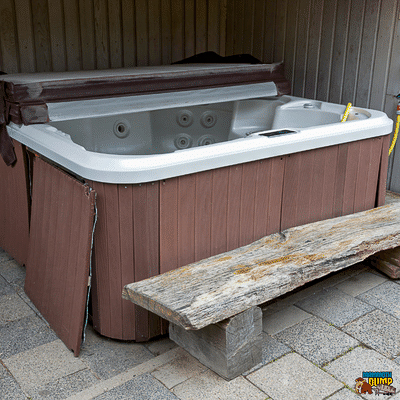 Hot Tub Spa Or Jacuzzi? Is There A Difference?
Hot tubs and Jacuzzis are both luxurious and relaxing hot water baths that can transform any spa day into a heavenly experience. However, there is an important distinction between the two. Typically, a california hot tub is larger and provide a more social environment for many as they are usually installed outdoors or indoors with enough room for multiple people. Additionally, hot tubs also typically hold less hot water (typical range being 100-104°F) than Jacuzzi, which have higher temperature ranges of 104-108°F. Finally, hot tubs are great for social gatherings or stress relief due to their open layout, jets of hot water and soothing hydro-massage capabilities, while a Jacuzzi can offer a similar experience but in a more intimate setting with seating specifically designed for your comfort.
Hot Tub - How To Service Hot Tub
Hot tubs are a great way to relax and unwind after a long day, but just like any other hot tub each will require some basic maintenance to keep it running optimally. To properly service hot tub, start by testing the pH balance of your hot tub water and adding any necessary chemicals to balance it out. Then inspect all hot tub hoses and components for any signs of wear or damage; these should be replaced promptly if necessary. Additionally, we recommend to make sure to clean out the hot tub filter at least once every month as this can help prevent bacteria buildup. Finally, regularly check in on the hot tub temperature and make adjustments as needed to ensure you have an enjoyable experience every time!
Need Junk Removal Instead Of Your Hot Tub Removed?
Is junk taking up space in your home or business? Don't worry, Mammoth Dump is here to help. Our junk removal services provide fast, efficient solutions so you can relax and let us take the hassle away. We understand that you need junk removal done quickly which is why we provide punctual hauling for any items within our junk removal capabilities. Don't wait - call Mammoth Dump today to have all of your junk taken care of. We promise results that will leave you satisfied with your junk-free life.