Commercial Junk Removal - Merced's #1 Junk Removal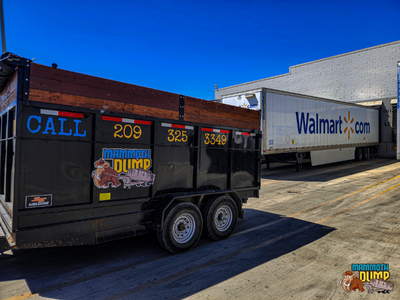 Commercial Junk - What our junk removal services include
Running a business means a lot of responsibility, especially when it comes to the cleanliness of the office space. That's why you need a reliable and efficient commercial junk removal service to help you get rid of all those large items that are taking up valuable space in your facility. Mammoth Dump offers comprehensive commercial junk removal services that can help make your office ready for the future.
What We Offer
At Mammoth Dump, our commercial junk removal services include pickup, transportation, and disposal of a wide variety of waste materials generated by commercial businesses, such as office buildings, warehouses, retail locations, and construction sites. This includes office furniture, fixtures, appliances, computers and electronics, construction debris and scrap metal. Our experienced professionals will come with the necessary equipment to quickly load up all the items that need to be removed from your premises. We can even do same-day pickup for certain types of materials!
We also offer specialty services for larger projects such as full-scale demolition and renovation projects. Our team will work closely with you to create an individual plan that meets your needs and budget while also ensuring compliance with state and federal regulations. We have access to dumpsters in various sizes so you can choose one that best fits your project's requirements. All our dumpsters are made from durable materials so they will stand up to even the toughest job site conditions.
Eco-Friendly Junk Removal Methods
Mammoth Dump is committed to doing our part in protecting the environment through responsible waste management practices. We go beyond just picking up and disposing of your unwanted items; we also use eco-friendly recycling methods whenever possible in order to reduce our carbon footprint on the planet. Our staff is trained in proper recycling techniques so we can ensure that as much material as possible is recycled instead of ending up in landfills or incinerators. Additionally, we strive for zero refuse by donating usable materials whenever possible rather than throwing them away.
Don't let clutter take over your business! Let Mammoth Dump help you with all your business junk removal needs today so you can focus on what matters - running a successful business! Our comprehensive services cover everything from same day pickups to full scale demolition projects so no job is too big or small for us to handle! Plus our eco-friendly junk removal methods mean you don't have to worry about hurting the environment while getting rid of all those extra items cluttering up your facility. Contact us today for more information about how we can help make your office ready for the future!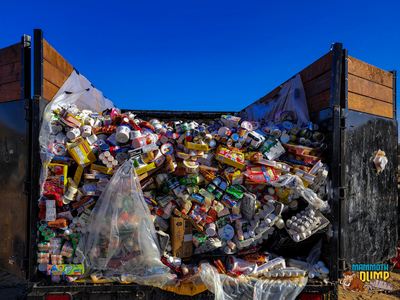 Commercial junk & residential junk removal process
Whether you're cleaning out the garage or clearing a space for construction, removal services from Mammoth Dump are a great way to start . Our trained professionals are happy to help with all your removal needs, providing removal of just about anything junk related - furniture and unwanted clutter, scrap metal and old appliances, renovation junk, or yard waste. With Mammoth Dump on your side, removal is easy and stress-free. We understand that each situation is unique and promise top-notch customer service regardless of how much junk you need to be removed. Let Mammoth Dump handle your residential junk removal or junk removal commercial quickly and professionally - leaving you with one less thing to worry about!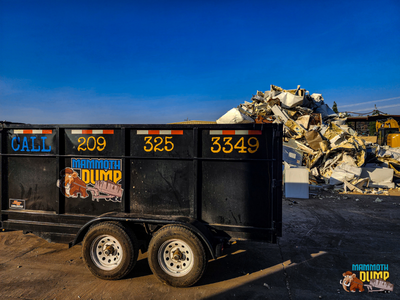 Commercial Scrap Removal
Are you looking for a reliable and cost-effective way to remove scrap metal from your commercial property? At Mammoth Dump, we specialize in commercial scrap removal. We take care of all aspects of the process, including dismantling, loading and transporting scrap metal. Our team partners with A&S Metal to ensure that all of the materials are disposed of properly. Here's a look at how our process works.
We understand that time is valuable in running your business so we strive to make our process as efficient as possible while still ensuring quality results every time. Our experienced technicians are trained in best practices for safe and effective removal so you can rest assured that no damage will be done to your property during this process. In addition, our team is fully insured so any potential accidents are covered by us without putting your business at risk.
Working with Mammoth Dump for commercial scrap removal is an easy and cost-effective solution for businesses looking to get rid of excess scrap metal quickly and safely without damaging their property or breaking their budget. With years of experience in this industry, our team has developed a streamlined process that ensures quality results every time while still respecting your timeline and budget needs. Contact us today to get started!



Scrap Debris Removal Process
Step 1: Request a Quote.
First, you can request a free quote by calling us or filling out an online form on our website.
We will provide you with an estimate based on the type of material you need removed and the amount of it.

Step 2: Dismantling & Loading
Once we have determined the scope of work, we will begin removing the scrap metal from
your site and loading it into our dumpster for transportation to A&S Metal's facility in Merced, CA.

Step 3: Transportation & Dumping
Our team will transport the scrap metal to A&S Metal's business where it will be
recycled or disposed of safely and responsibly in accordance with local laws and regulations.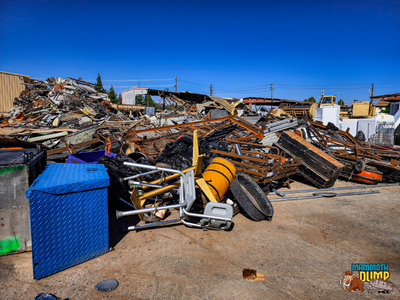 The type of trash we see in the typical junk removal job
What to Expect from Commercial Services
In the commercial world, junk removal is for keeping business operations running smoothly. Whether it's old office furniture, electronic waste, equipment, retail fixtures, appliances or pallets and cardboard packaging materials; having a reliable service to remove unwanted items can save your company time and money. But what exactly does a typical junk removal service take away? Let's find out!
Old Office Furniture & Equipment: A lot of businesses go through different stages of development, which means that the furniture, desks and filing cabinets that were once needed may no longer be required. This is when you need a junk company to come in and take away all the old office furniture via dumpster. The same goes for any outdated equipment or machinery that is not in use anymore. It's important to clear this clutter as soon as possible so that your office space remains organized and efficient.
Electronic Waste: Electronic waste is any type of electrical or electronic item that has been discarded by its user. This includes computers, monitors, peripherals such as keyboards and mice, telephones and other IT equipment. These types of items should never be thrown away in regular rubbish bins as they contain hazardous materials which can be damaging to the environment if not disposed of properly. That's why it's always best to use a professional junk removal service when disposing of electronic waste.
Retail Fixtures & Displays: Outdated retail fixtures and displays can also be removed with a junk removal service. This includes anything from clothing racks to shelves or display cases that are no longer being used due to changes in stock or store layout. Having these removed quickly will help free up space for new merchandise and keep your store looking neat and tidy at all times.
As you can see, there are many different types of items that can be taken away by a junk specialist. From old office furniture and electronic waste to retail fixtures and displays; it's important to have these items cleared away promptly so that your business operations remain efficient at all times. With Mammoth Dump on board, you won't have to worry about unwanted clutter taking up valuable space ever again!
Our junk removal services FAQ
What are the benefits of commercial junk removal?
The benefits of commercial junk removal services is that they are a cost-effective solution to manage junk from larger properties. For commercial sized businesses, junk removal can be especially beneficial to keep their premises looking clean and professional. It helps maintain a respectful environment for customers, staff, and other visitors. Also, junk removal services can save time that would have been spent on manually disposing of junk.
How do I choose a commercial junk removal company?
When choosing a junk removal company you should first consider the size of your junk removal job. Different companies offer different services and fees depending on the project at hand. Additionally, you should research which junk removal companies have positive google reviews and a history of good customer services. Finally, make sure to review quotes carefully in order to find the best deal for your junk removal needs.
How do I get started with commercial junk removal?
When getting started with a commercial sized project It's important to note the size and weight of each item when creating this inventory, so you can get an accurate cost estimate from a junk expert. Once you have an idea of what needs to be taken away, research potential junk removal companies and find one that fits your needs. They'll usually provide an upfront cost for the job or based on quantity or amount of junk being hauled away, so you know exactly what you're getting yourself into and how much it will cost.