#1 Junk Removal Merced - Hauling Made Easy
Looking for junk removal in Merced, CA? Opting for junk removal is a convenient and cost-effective way to get rid of excess stuff. The amount of debris that may need hauling, the level of difficulty involved, the type of stuff being disposed off, and the level of urgency will help determine the pricing. It may require a single person or an entire team and one large container or several smaller bins depending on the quantity of rubbish being removed. At times, even items such as hazardous materials can be disposed of by a reliable junk removal provider.
Merced - Residential Junk Removal
If you reside in Merced, CA and are looking for junk removal to help get your residence clean and organized, Mammoth Dump is the perfect company to call. Our team of experienced junk removal professionals have the necessary knowledge and equipment to handle any residential cleanout. At Mammoth Dump, we specialize in safely removing all kinds of unwanted items, including furniture, old appliances, construction waste, electronic waste, and other random items that may need disposal. Having dealt with a variety of clients throughout our time in business and offering reasonable rates as well as superb services means that Mammoth Dump leads the way in residential junk removal. We are always ready to answer questions and provide top tier support no matter the size or scope of your junk removal request.
Merced - Commercial Junk Removal
When it comes to commercial junk removal in Merced, CA, Mammoth Dump is leading the way. Whether you need junk removal due to a foreclosure, going out of business, remodeling or maybe its just an inventory cleanout, Mammoth Dump has you covered. Our VIP services provide quick and efficient removal of a variety of trash items, from heavy equipment and commercial appliances to light waste. Our team of debris removal experts are able to remove all waste faster than any other service in the area can. No matter what type of waste needs removing, Mammoth Dump will save you time and effort so that you can focus on your establishment.
Storage Unit Cleanout - Hauling
If you're in Merced, CA junk removal has never been easier. Our storage unit cleanout service is hassle-free, providing you with quick and convenient removal services of any unwanted items from your storage unit. Before starting the project we just need some information from you so we can make it as seamless as possible - such as the name of the facility and the dimensions of your unit. Depending on the facility, a gate code may be required for entry so either you can provide us with that or you can let us in and out yourself. With our services, you can save time and energy that would be traditionally spent on collecting waste items yourself - allowing you to focus on what matters most.
Shed Demolition And Removal - Merced County Junk
If you're looking to get rid of a shed in the Merced, CA area look no further than Mammoth Dump! Junk removal no longer has to be a daunting task when you hire the right team. With our services, you can easily and affordably have the shed demolished and disposed of; no heavy lifting required! When it comes to junk removal, our team of professionals are experts in both dismantling and demolishing even the toughest sheds. We'll arrive onsite to inspect the shed before determining whether it'll be dismantled with hand tools or knocked down with power tools. Following that, we'll pack up all debris into our dump trailer and transport it off to the Merced county junk. We guarantee competitive pricing while ensuring stunning results! Contact us today for detailed quotes tailored to your services needs.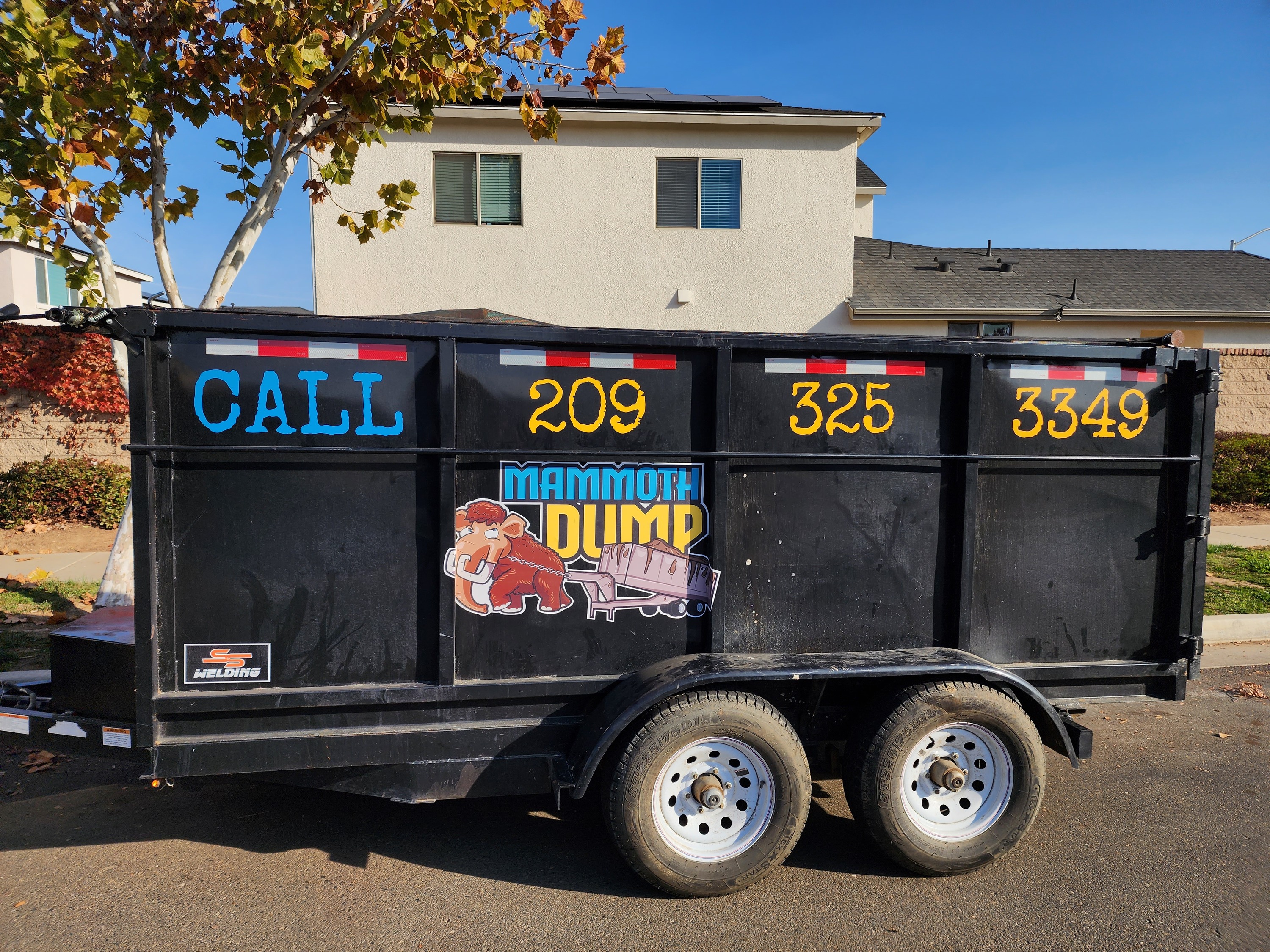 Garage Cleanout - County Junk Removal
There's no longer a need for stress and frustration when it comes to junk removal in Merced, CA. Our garage cleanout service will take the hassle out of getting rid of all the unwanted items that are gathering dust in your garage. From old car parts, furniture, and bikes to paint cans - we can take it all away from your property. With our commitment to continued customer satisfaction and quality service, you can count on us for an efficient and stress-free junk removal experience.
- Frequently Asked Questions -
How Do I Get Rid Of A Lot Of Junk?
In our opinion the best way to get rid of a lot of junk is by hosting a garage sale or estate sale and selling as much of your junk as you can. Then we would recommend gathering the left over items and calling a junk removal company to set a date and time for them to come by and pick up your remaining garbage. It is preferred to have the items readily accessible for the junk removal team so they can be in and out in no time.
How Much Does It Cost To Haul Off Junk?
The average cost to haul off junk ranges from 99 dollars to 650 dollars. 99 dollars is the typical price you would see for a single item junk removal. You normally will see a junk removal service cost of 650 dollars when you have enough waste to fill a 20 cubic yard dumpster.
How Do You Prepare For Junk Removal?
The best way to prepare for junk removal is by piling up all of your unwanted items in one location, preferably your garage or just outside your garage. You want to do this so you can make it as seamless as possible for your haulers.
Where Does My Junk End Up?
Does my junk end up in a landfill, recycling center, or scrap yard. We determine the final location of your waste based on the type of materials it is made out of. Another factor we also consider is the price of disposing vs recycling. For disposing purposes we will dump at Merced Regional Waste and for scrap disposal weve partnered up with A&S Metal.
What Is Included In Junk Removal Services?
On average what is included in junk removal services will be labor, dump fees, and transportation of your debris. This is done by filling up a bin or truck and hauling away all of your waste to the nearest landfill in your city.